Attention Deficit-Hyperactivity Disorder (ADHD)
Healing ADHD from Within
Drugs shouldn't be necessary; alternative, drug-free treatment can help ADHD children.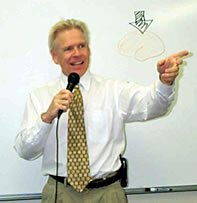 This keynote inspires parents, teachers and their children to understand the core difficulty in the brains and minds of children with ADHD. Learn how through proper, early intervention with non-drug techniques, this epidemic and educational nightmare can be eliminated and allow children to grow up to enjoy heir full potential as drug-free, fulfilled and successful members of society.
Understanding the mechanics of developmental brain dysfunction in ADHD and techniques designed to either prevent ADHD or to dramatically improve symptoms in a natural way.
An inspiring lecture from a dynamic speaker who makes complex brain functioning understandable and enjoyable for lay people and professionals alike. Features a wealth of knowledge about integrative brain functions during child development, and practical strategies for enlivening mind-body health and a child's full potential.
ADHD is as a developmental disorder due to brain imbalance and incoherence
Central role of the prefrontal cortex in ADHD behavior
Dysfunction of decision-making, attention, and reward behind ADHD behavior
Research on alternative, non-drug treatment approaches
Optimal treatment strategies of ADHD individuals
Enhancing brain coherence for ADHD recovery
Program Length: Presentations can be created from 45 minute keynote, to half or full day seminar. Custom topics are available upon request.
Speaking Fee: Contact us to obtain current fees for speaking. Fees include normal travel and hotel expenses, as well as recording considerations & educational materials.
Detailed description of presentation
view PDF NOW
Video & Audio Online
Enjoy a short clip of Dr. Arenander speaking on this topic
Watch Now
Listen Now
Store
Buy a CD or DVD on this topic
Click Here Now
Audio Interview Online
Dr. Arenander discusses the latest brain research on aging
Listen NOW
About Dr. Arenander
Speaker Information
Click Here
Contact
Click here