Nourish Your Brain
Anti-aging Techniques & the Prevention of Alzheimer's Disease
Your brain is everything; take good care of it for a long and healthy life.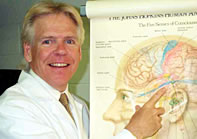 This keynote challenges the current fear and misunderstanding about aging, the brain, and Alzheimer's disease (AD). The latest scientific knowledge about aging suggests the brain begins to disconnect around age 30 and progresses at a rate determined primarily by known risk factors.
Learn what these factors are and how the ancient medical science of Ayurveda can help overcome the fear of AD by offering practical powerful techniques to reverse the aging process and delay or prevent the onset of AD.
Understanding the process of aging and memory loss, the progression towards Alzheimer's disease.
An inspiring lecture from a dynamic speaker who makes complex brain functioning understandable and enjoyable for lay people and professionals alike features a wealth of practical tips for keeping the brain healthy and operating at its full potential.
Keeping Your Brain Young and Healthy
Aging, Memory and Brain Function
The Crucial Role of the Brain's Glial Cells
Risk Factors for Alzheimer's
Diagnosis and Treatment of Alzheimer's
AyurVedic Medicine's Impact on Longevity
Hidden Secrets for Preventing and Healing Alzheimer's
Program Length: Presentations can be created from 45 minute keynote, to half or full day seminar. Custom topics are available upon request.
Speaking Fee: Contact us to obtain current fees for speaking. Fees include normal travel and hotel expenses, as well as recording considerations & educational materials.
Detailed description of presentation
view PDF NOW
Video & Audio Online
Enjoy a short clip of Dr. Arenander speaking on this topic
Watch Now
Listen Now
Store
Buy a CD or DVD on this topic
Click Here Now
Audio Interview Online
Dr. Arenander discusses the latest brain research on aging
Listen NOW
About Dr. Arenander
Speaker Information
Click Here
Contact
Click here