Spiritual Development in the Modern Age
Developing Higher States of Consciousness and Enlightenment through Global Brain Integration
Is 10% human potential a myth? Are there scientific validated means to measure human potential and techniques to enhance its full development?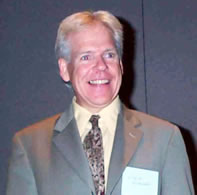 This keynote inspires participants to realize both the possibility and the practicality of developing ones full mental and spiritual potential. Brain research of experience-dependent plasticity offers remarkable insights into brain functioning and human potential. Discover techniques shown by modern science to offer the direct experience of pure spirituality and, through systematic practice, to transform the human brain so that it is capable of supporting the blissful experience of the unity of being in daily life, lived in great health and success in today's world.
Understanding the research-based fundamentals and techniques of spirituality.
An inspiring lecture from a dynamic speaker who makes complex brain functioning understandable and enjoyable for lay people and professionals alike. Features a wealth of knowledge about integrative brain functions and the growth of spirituality, and practical tips maximizing mind-body health.
Is 10% human potential a myth?
How our brain creates our reality
Self-development across a continuum of human awareness
Central role of the prefrontal cortex in spiritual growth and experience
Research-based strategies of spiritual growth and enlightenment
Brain coherence and the experience of unity
Program Length: Presentations can be created from 45 minute keynote, to half or full day seminar. Custom topics are available upon request.
Speaking Fee: Contact us to obtain current fees for speaking. Fees include normal travel and hotel expenses, as well as recording considerations & educational materials.
Detailed description of presentation
view PDF NOW
Video & Audio Online
Enjoy a short clip of Dr. Arenander speaking on this topic
Watch Now
Listen Now
Store
Buy a CD or DVD on this topic
Click Here Now
Audio Interview Online
Dr. Arenander discusses the latest brain research on aging
Listen NOW
About Dr. Arenander
Speaker Information
Click Here
Contact
Click here