The Brains Behind Business
How to Unlock the Full Potential of Your Company
There is a crucial difference between 'thinking about thinking' and actually enhancing brain and mental processes by developing the latent potential of each individual.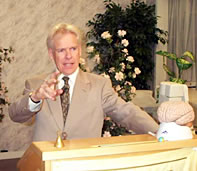 This keynote challenges the prevailing, yet unsuccessful, approach to business productivity by attempting to improve thinking and decision-making on the level of thinking itself. The missing element in business today and the source of future success in business in this age of global change and uncertainty is human awareness. To harness the vast potential of human consciousness, the springboard of human creative potential, we will have to enliven total brain functioning, the basis of full wakefulness, creativity, and intelligence, as well as mental and physical health. Learn how scientifically proven technologies can improve decision-making at all levels of the company, develop employee investment in company values, culture, and goals, create mind/body health and reduce healthcare costs, absenteeism, and injuries, enhance efficiency and productivity, and increase creative problem-solving to provide a competitive edge in the rapidly changing global market.
Understanding how coherent brain activity has always been the foundation of business success.
An inspiring lecture from a dynamic speaker who makes complex brain functioning understandable and enjoyable for all levels of the business community. Features a wealth of knowledge how integrative brain functions impact businesses, and strategies for the health and growth of individuals and corporations
How to handle the brains behind businesses in the age of dramatic change and growing uncertainty
Evolution of Scientific Management Theory to Consciousness-Based Management
Coherent brain dynamics underlying prediction, control and decision-making
Understanding the neuroeconomics of personal and professional development
Consciousness-based approach to enhance brain synchrony and successful thinking and performance
Research-based technologies that systematically and holistically develop maximum creativity and adaptability of the employee and the company
Research-based technologies that markedly reduce stress and healthcare costs
Adapting to and profiting from the evolving global economy
Program Length: Presentations can be created from 45 minute keynote, to half or full day seminar. Custom topics are available upon request.
Speaking Fee: Contact us to obtain current fees for speaking. Fees include normal travel and hotel expenses, as well as recording considerations & educational materials.
Detailed description of presentation
view PDF NOW
Video & Audio Online
Enjoy a short clip of Dr. Arenander speaking on this topic
Watch Now
Listen Now
Store
Buy a CD or DVD on this topic
Click Here Now
Audio Interview Online
Dr. Arenander discusses the latest brain research on aging
Listen NOW
About Dr. Arenander
Speaker Information
Click Here
Contact
Click here