Traumatic Brain Injury (TBI)
Enhanced Brain Integration for Maximum Recovery
TBI is brain disconnection; Create brain coherence to heal and maximize rehabilitation efforts.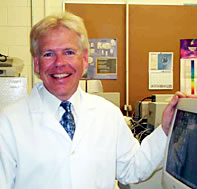 This keynote clearly describes the enormous importance of the prefrontal cortex (PFCX) in orchestrating our lives and the lives of TBI survivors. The PFCX is probably the most under-utilized and under-appreciated module of brain function and is implicated in many, if not most cases of TBI. Discover techniques that exist which can greatly enhance the executive functions, giving TBI individuals more emotional support, greater clarity of thought and action, more insight and motivation, less impulsiveness and anger, less substance abuse, and improved self-image. Learn how, by improving awareness and enhancing global brain function, one can increase PFCX executive function and greatly improve TBI recovery.
Understanding the mechanics of neural dysfunction in brain injury survivors and techniques to enhance recovery.
An inspiring lecture from a dynamic speaker who makes complex brain functioning understandable and enjoyable for lay people and professionals alike. Features a wealth of knowledge about integrative brain functions, and practical tips for keeping the brain healthy and operating at its full potential.
TBI as a fundamental problem of brain imbalance and incoherence
Central role of the prefrontal cortex in TBI and recovery
Predictors of TBI outcomes
Optimal treatment strategies of TBI individuals
Enhancing brain coherence for TBI recovery
TBI as a major risk factor for aging disorders and Alzheimer's
Understanding the consequences of injuring the developing brains of children
Program Length: Presentations can be created from 45 minute keynote, to half or full day seminar. Custom topics are available upon request.
Speaking Fee: Contact us to obtain current fees for speaking. Fees include normal travel and hotel expenses, as well as recording considerations & educational materials.
Detailed description of presentation
view PDF NOW
Video & Audio Online
Enjoy a short clip of Dr. Arenander speaking on this topic
Watch Now
Listen Now
Store
Buy a CD or DVD on this topic
Click Here Now
Audio Interview Online
Dr. Arenander discusses the latest brain research on aging
Listen NOW
About Dr. Arenander
Speaker Information
Click Here
Contact
Click here