Enjoy a Life of Well-Being
The Science and Technology of Mind/Body Health
Is it intelligent to spend 1.5 trillion dollars a year on 'Sick' care? Where is Prevention?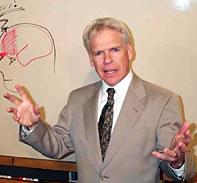 This keynote reveals the failed system of sick or disease care in the U.S. which contributes to, while offering little to stem the epidemic of preventable diseases. We need to move from a healthcare system that treats disease to one that avoids disease through wiser personal choices. How is this possible? The fundamental problem is the lack of proper education so children may grow up with healthy habits and lifestyle. Learn why stress pervading our society leads to brain dysfunction associated with mind/body disorders and unhealthy, addictive behaviors. Discover how the meditating brain can heal the mind and body. Participants will learn how modern medical practice can be beneficially impacted by this complementary system of self-management to create improved levels of mind/body health and well-being.
Understanding the research-based fundamentals and techniques for the self-management, the basis of true mind-body health and well-being.
An inspiring lecture from a dynamic speaker who makes complex brain functioning understandable and enjoyable for lay people and professionals alike. Features a wealth of knowledge about integrative brain functions and the growth of well-being.
The evolution of sick-care to health-care through a science of well-being
Experience changes the brain which determines who we become
Trends in complementary and alternative medicine
Healing the mind and body from the inside
The prefrontal cortex as the nexus of well-being
Global Brain coherence, sense-of-self, and health
Research-based strategies for creating well-being
Program Length: Presentations can be created from 45 minute keynote, to half or full day seminar. Custom topics are available upon request.
Speaking Fee: Contact us to obtain current fees for speaking. Fees include normal travel and hotel expenses, as well as recording considerations & educational materials.
Video & Audio Online
Enjoy a short clip of Dr. Arenander speaking on this topic
Watch Now
Listen Now
Store
Buy a CD or DVD on this topic
Click Here Now
Audio Interview Online
Dr. Arenander discusses the latest brain research on aging
Listen NOW
About Dr. Arenander
Speaker Information
Click Here
Contact
Click here