Substance Abuse
How the Brain Gets Hooked
Everyone wants to be happy. No one wants to be an addict. What went wrong?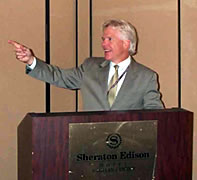 This keynote describes how the brain gets fooled into thinking drugs are a useful solution to life's challenges. Self-medicating is a common behavior in human existence, how to modify our experience to feel and act better. However, substances of abuse, eventually lead to loss of control over emotions and behavior. Modern neuroscience research has made considerable progress in understanding the addictive process in the brain. Neuroimaging studies demonstrate that the same areas of the brain that turn-on when encountering our favorite person, food or event, turn-on in an overpowering, and often toxic and disabilitating, manner when substances of abuse are taken. Plenty of evidence suggests most addictive behavior, including drugs, spending, sex, eating, etc., represent an unintentional 'high-jacking' of the brain's central reward system. What causes the relentless cycle of bingeing that all to often leads to loss of everything in life? And, how can the system be rebalanced so natural forms of rewards regain influence and mind-body health can be restored?
Understanding the mechanics of brain dysfunction due to substance abuse and addiction, and techniques to enhance recovery.
An inspiring lecture from a dynamic speaker who makes complex brain functioning understandable and enjoyable for lay people and professionals alike. Features a wealth of knowledge about integrative brain functions and the addiction process, and practical tips restoring mind-body health.
Addictive behavior as a fundamental problem of brain imbalance and incoherence
Central role of the prefrontal cortex in addictive behavior
Decision making, reward and addictive behavior
Predictors of abuse and addiction outcomes
Optimal treatment strategies of addicted individuals
Enhancing brain coherence for substance abuse recovery
Substance abuse as a major risk factor for aging disorders and Alzheimer's
Program Length: Presentations can be created from 45 minute keynote, to half or full day seminar. Custom topics are available upon request.
Speaking Fee: Contact us to obtain current fees for speaking. Fees include normal travel and hotel expenses, as well as recording considerations & educational materials.
Video & Audio Online
Enjoy a short clip of Dr. Arenander speaking on this topic
Watch Now
Listen Now
Store
Buy a CD or DVD on this topic
Click Here Now
Audio Interview Online
Dr. Arenander discusses the latest brain research on aging
Listen NOW
About Dr. Arenander
Speaker Information
Click Here
Contact
Click here