Self-Recovery Rehabilitation
Effective, Holistic Treatment of Drug Abuse and Addiction
Lasting, satisfying recovery is only possible when the cause of addiction is treated.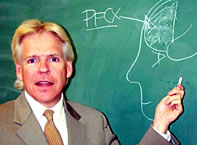 This keynote summarizes the brain research on addiction which documents the four main elements that any effective rehabilitation strategy must fulfill to reverse the maladaptive changes in the brain of addicts. Learn about the evidence-based program of Self-Recovery, which utilizes the complementary medical modality of meditation to bring about a holistic, integrated, comprehensive restructuring of the brain physiology of drug addicts. This approach helps facilitate long-term, successful rehabilitation and the development of a healthy, fulfilling life as a member of society .
Understanding the research-based fundamentals and techniques of effective recovery from substance abuse and addiction.
An inspiring lecture from a dynamic speaker who makes complex brain functioning understandable and enjoyable for lay people and professionals alike. Features a wealth of knowledge about integrative brain functions and the addiction process, and practical tips restoring mind-body health.
Addictive behavior as a fundamental problem of brain incoherence
Four main elements for effective rehabilitation
Central role of the prefrontal cortex in addictive behavior
Decreasing the reward value of the drugs
Increasing the reward value of natural, non-drug reinforcers
Decrease the conditioned responses based on environmental drug cues
Increase the executive control functioning of the frontal cortex
Optimal treatment strategies of addicted individuals
Enhancing brain coherence for substance abuse recovery
Healing addiction from the inside-out
Program Length: Presentations can be created from 45 minute keynote, to half or full day seminar. Custom topics are available upon request.
Speaking Fee: Contact us to obtain current fees for speaking. Fees include normal travel and hotel expenses, as well as recording considerations & educational materials.
Detailed description of presentation
view PDF NOW
Video & Audio Online
Enjoy a short clip of Dr. Arenander speaking on this topic
Watch Now
Listen Now
Store
Buy a CD or DVD on this topic
Click Here Now
Audio Interview Online
Dr. Arenander discusses the latest brain research on aging
Listen NOW
About Dr. Arenander
Speaker Information
Click Here
Contact
Click here