Brain-Based Education Works
Educating the Whole Child for a Life of Success and Well-Being
Our society will fail if we do not develop the 'whole' child—a child full of happiness, creativity, intelligence, compassion and wisdom.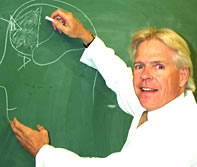 This keynote reveals the basis of educating the whole child can be located in the brain physiology. The orderliness of brain function and its progressive development during the child's educational experience helps to mold the physical, intellectual, emotional, moral and spiritual values of every young citizen. If you desire to develop your creative potential to the fullest, you must enliven the total brain. Learn about the natural experience of the source of thought, Transcendental Consciousness, which is the only human experience that is completely holistic and unbounded in nature, and its ability to awaken the total potential of brain functioning. Hundreds of scientific studies document the enlivenment of total brain functioning and a state of well-being.
Understanding the research-based fundamentals and techniques for the full development of human potential.
An inspiring lecture from a dynamic speaker who makes complex brain functioning understandable and enjoyable for lay people and professionals alike. Features a wealth of knowledge about integrative brain functions and the growth of children's mind and body.
The evolving role of education in society
How educational experience in developing the brain
Self-development across a continuum of human awareness
The prefrontal cortex as the nexus of human development
Brain coherence, working memory and sense-of-self
Research-based strategies for enlivening total brain function
Program Length: Presentations can be created from 45 minute keynote, to half or full day seminar. Custom topics are available upon request.
Speaking Fee: Contact us to obtain current fees for speaking. Fees include normal travel and hotel expenses, as well as recording considerations & educational materials.
Detailed description of presentation
view PDF NOW
Video & Audio Online
Enjoy a short clip of Dr. Arenander speaking on this topic
Watch Now
Listen Now
Store
Buy a CD or DVD on this topic
Click Here Now
Audio Interview Online
Dr. Arenander discusses the latest brain research on aging
Listen NOW
About Dr. Arenander
Speaker Information
Click Here
Contact
Click here