BrainPower and Leadership
Harnessing the Power of Self-Development through Unleashing Brain Potential
Leadership rests upon knowledge, knowledge upon brain development, and brain development on the growth of the Self.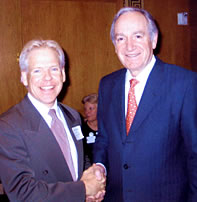 This keynote introduces the brain dynamics and related technologies of self-management which form the fundamental basis for leadership at any level of responsibility. Leadership is an expression of the degree of self-development and the ability to harness the full potential of the human brain. A developed brain and sense-of-self provides a powerful basis for mastering and enjoying change in the personal and professional world. Self-centered leadership is the key to progress and growth in this post-industrial age.
Understanding how management of the Self and its correlates in coherent brain activity are the key to being a leader.
An inspiring lecture from a dynamic speaker who makes complex brain functioning understandable and enjoyable for all levels of the business community. Features a wealth of knowledge how integrative brain functions impacting the minds of leaders, and strategies for the health and growth of leaders at every level of the company.
Brains, consciousness and Self
Evolution of Leadership Theory to Self-Based Leadership
Coherent brain dynamics underlying prediction, control and decision-making
Understanding the neuroeconomics of personal and professional development
Self-based approach to enhance brain synchrony and leadership skills
Research-based technologies that systematically and holistically develop maximum leadership
The leadership and corporate growth in the post-industrial age
Program Length: Presentations can be created from 45 minute keynote, to half or full day seminar. Custom topics are available upon request.
Speaking Fee: Contact us to obtain current fees for speaking. Fees include normal travel and hotel expenses, as well as recording considerations & educational materials.
Video & Audio Online
Enjoy a short clip of Dr. Arenander speaking on this topic
Watch Now
Listen Now
Store
Buy a CD or DVD on this topic
Click Here Now
Audio Interview Online
Dr. Arenander discusses the latest brain research on aging
Listen NOW
About Dr. Arenander
Speaker Information
Click Here
Contact
Click here